fuentesdesign, as seen in:
See below for additional stories… 
Summer 2015. 5280 HOME features our Renew Project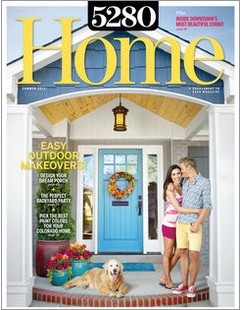 September 2013.  Fuentesdesign in Modern in Denver 
Pick up the Fall 2013 issue of Modern in Denver at stores near you!!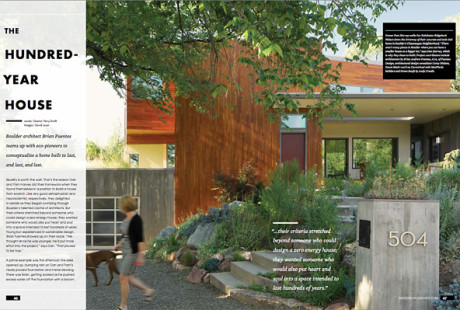 June 2013. fuentesdesign wins the Boulder County Business Report Green Award
Two fuentesdesign projects were recently award the "Best Green Residential New Construction" and, with builder/developer Boulder ZED, "Best Green Residential Remodel" at the Boulder Valley Green Building Awards by the Colorado Green Building Guild.
September 2012.  Local radio station, KGNU, visits a fuentesdesign home
KGNU recently visited a fuentesdesign straw bale home to learn about straw bale construction and the Passive House standard.
Listen here (at the 15 min mark).
July 2012.  Qualified Remodeler Interviews Brian Fuentes
Brian Fuentes recently spoke to Qualified Remodeler about ways fuentesdesign works to connect indoors and outdoor spaces, "we often add a front porch or back patio/deck or both. The wide-span doors connect the indoors to the outside. In Colorado, we have great weather; even in February it can be 70 F. We have a lot of opportunity to provide connected living."
Read more here (July 2012, page 52)!
May 2012. Brian Fuentes to speak on Passive House design in Colorado at World Renewable Energy Forum
FORUM – Passive House Design: Designs, Builders, Training, Certification
The Passive House approach sets target performance criteria that must be met during construction before the walls are closed in, virtually eliminates the need for an active climate control system, and requires verification testing after the walls are sealed. Design professionals involved with several projects from various climate regions of the U.S. will present the different aspects of the Passive House approach such as insulation, thermal bridging, windows, performance testing, specific construction details, cost, air quality, certification, training, and design-build training.
Presenters Mike Beamer (Moderator),  Diana Hogard (Moderator),  Dave Bisers (Moderator),  Katrin Klingenberg (Speaker),  Florian Speier (Speaker),  Brian Fuentes (Speaker),  Lance Wright(Speaker)
View presentation here.
March 2012.  BGBG presentation: Rebuilding Green in the Canyon Case Studies:
Tue, March 13, 2012, 12:00 PM – 1:30 PM
REI Community Room, 1789 28th St, Boulder
Brian Fuentes will present  to us 2 different straw bale projects.  The Gold Run project is based on using as many local resources as possible for the lowest possible embodied energy footprint.  As building energy use goes to Net Zero with efficiency and renewable power, embodied energy becomes the larger concern for the building's overall carbon footprint.  Local trees from the recent fire are being salvaged for the structural timber frame and all decking, sheathing and other wood required for the project, straw bale walls with local earthen plaster are being used for wall insulation.  Sustainability is also about creating jobs for people, and by salvaging local forest resources rather than having them shipped in, this project aims to displace some cost associated with the shipping of lumber with local and meaningful employment for the building industry.
At Misty Vale Ct. we explore a prefab straw bale home.  The structure was designed to meet the stringent passive house standard and the straw bale wall panels were built in a shop and then craned into place on site. This allows for straw bale construction year round without risk of the walls being exposed to weather. The project features extreme energy conservation due to a super insulated envelope, very low air leakage, LED lighting, efficient appliances and mechanical equipment, straw bale and heavy timber carbon sequestration and a 6 kW PV system.
January 2012.  ARCHITECT magazine highlights Brian Fuentes
Smart phones and ever-growing work loads have broken down the walls between home and office. Fortunately, architects are finding creative ways to manage their time. Read more…
January 2012.  fuentesdesign to speak at CRES January 26th, 2012
The Colorado Renewable Energy Society (CRES) is a nonprofit membership organization whose members work to increase awareness of the economic and environmental benefits of renewable energy and energy efficiency technology and support the sensible adoption of these technologies by Colorado businesses and consumers. Read more…
October 2011.  fuentesdesign to speak at national Passive House conference
October 28th. A Strawbale retrofit in Boulder, CO. Brian Fuentes AIA, CPHC is the principal of fuentesdesign, with 10 years of experience in low- and zero-energy home design in Colorado. He has completed multiple net zero projects using a variety of building and mechanical systems and is currently working on the first certified passive houses in Colorado, including one for himself, built with prefabricated straw bale panels. His work has recently been featured in the book Prefabulous and Sustainable and in Architectural Record Magazine, in the 2011 RECORD HOUSES issue.

October 2011.  Boulder Solar Home Tour features fuentesdesign project
Overview by owner Dan Harvey:
"My wife and I met in Boston as I finished grad school and she began. We had both spent considerable time in Boulder and knew that we ultimately wanted to move here. We wanted to live as sustainable of a life as we could, but bearing in mind the inevitable needs and desires of modern-day life.
To minimize driving, we knew we wanted to live within city-limits, close enough to be walking or biking distance from downtown restaurants and also from open-space for hiking. With long distances from close family, we wanted a house that was big enough to comfortably accommodate visitors for extended periods, yet not so big that it was over-sized and wasteful for our normal family living. And above all, we wanted a large garden to enjoy our own little piece of the outdoors. These three requirements turned out to be fairly incompatible with the available real estate in Boulder, which led us to pursue building anew with the help of collaboration between Fuentes Design and Nielsen Design on the architecture side, and Modverde on the construction side.
We wanted to integrate indoor and outdoor spaces, maximize passive solar heating in winter (which dictated the south-facing backyard choice), and be fossil fuel independent. We wanted a modern architecture that created interesting spaces, angles and views. The project followed from there: deconstructing and donating the materials from the original house; designing a new house long in the east-west direction and short in the north-south direction (maximize solar access); an upper floor rotated 15 degrees to the east to catch the morning sun for the 10kW solar array and to provide the desired interesting angles; a geothermal and solar thermal system to provide heat and hot water entirely powered by the Boulder sun; green roofs to make the upper floors feel surrounded by gardens; the house wrapping around the main garden and patio spaces to draw the eye to the outdoors; and making the floor finishes flow seamlessly to the outdoor spaces to provide a continuity between the inside and out.
We spent the bulk of the project budget on the land and the main structure of the house that is built to last, and attempted to save money where we could on finishes since these may wear out or be replaced over time, by us or by future owners. We understand that building a house has a large carbon footprint in its own right, and to us this could only be mitigated by building a structure that would endure both in time and architecture."
April 2011.  fuentesdesign published in Architectural Record Houses 2011
Boulder, Colorado-based architect Brian Fuentes has six Passive House projects on the boards, including a home he is building for himself on the outskirts of the city from the remnants of a dilapidated 1880 miner's house. He is using an unusual modular system in which straw bales are set into a braced wooden frame and arrive at the site as prefinished wall units. The roof will be made of structural insulated panels (SIPs) supported by glue-laminated beams. Since SIPs are made of solid-foam panels with sheathing bonded to the exterior surfaces, they are a good material for reducing thermal bridging. Also, because SIPs interlock at the edges, they help make the building airtight. Read more…..
November 2010.  fuentesdesign project awarded Colorado Sustainable Design Award by Colorado Business Magazine
2nd Place: Generation House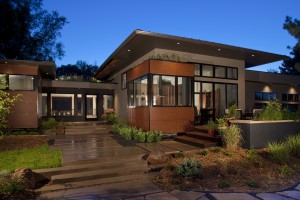 Architect 
 Brian Andrew Fuentes
Owners
Kelly and John Webb
Overview
This project included the deconstruction, salvage and donation of the existing building components and the creation of a new, net-zero energy home with an attached 1,000-square-foot grandparents' suite. There's also a 600-square-foot mixed-use/home office space with separate entry on the lower level in the back. The owner requested the house fit the character of the existing neighborhood, that solar panels be hidden from the street, and cost no more than 20 percent above conventional construction. The resulting design matches the low-sloped roofs and horizontal massing of the circa-1950s neighborhood. While originally criticized by some contractors, a tree saved in the middle of the driveway has become a favorite feature.
Sustainable features
• Superinsulation was achieved through different wall systems and window glazing types. Recycled paper or cellulose was used to insulate floors over crawl spaces.
• A geothermal heat pump powered by the photovoltaic system provides all space conditioning.
• Switches at each room power down any phantom loads from consumer electronics, and a Web-based energy management software is used to track system performance.
• The metal roofs act as umbrellas and direct rainwater through xeric living roofs as a pollutant filter before returning that water underneath the patio space to the vegetable gardens in the back yard.
Judges' comments
With its 'grandparents' living quarters' feature, this home has a solid dedication to social responsibility and features strong architecture and a good approach to sustainability."
October 2010. Denver Post features fuentesdesign project
Denver Post, October 24 2010, A second home that passes green muster. project: (The Log Cabin). From the article: "It's not just the thick walls and the fireplace, though, that retain heat. The floors are concrete, what Blum called a "heat sink." They warm up eventually, and stay warm. (The house has a radiant heat system in the floor, but it's seldom used.) The house's design maximizes gains from passive solar, as well — meaning it harvests whatever heat the sun is tossing its way. It faces south, and that side of the structure holds most of the windows. On the cold north side of the house, the roof angles down close to the ground." Read more….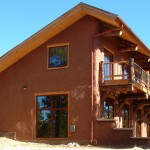 April 2010.  See fuentesdesign project in, Pre-Fabulous and Sustainable, Building and Customizing an Affordable, Energy-Efficient Home by Sheri Koones
About the book: "Sheri Koones has written another important book on the value of building Prefab-this one clearly explaining the enormous sustainability benefits of the process. Prefab, she explains, is intrinsically green for many reasons, but especially because there is so much less waste in the manufacturing process than in a standard site built home. The book illustrates some exceptionally beautiful prefabricated homes from around the country, all of them pointing to the fact that a well designed and built prefab home is a superior house and a more planet friendly alternative to the standard way of building. It's time that more of us were building this way. Sheri is showing us how. " – Sarah Susanka, FAIA, architect and author of The Not So Big House series and The Not So Big Life.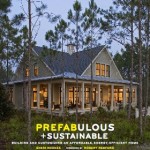 October 2008.  Denver Post highlights fuentesdesign
Denver Post, October 22 2008, Jeffco Home is a Bale-Out, Jules Javernick and Keith Brunel Residence project: (The Ranch)
5280 Magazine, November 2007, The Energy Issue, The Ranchcover. From the article: "…but what makes this house profoundly striking is its aroma. It smells like, well nothing. Which is exactly the point. It contains very few chemicals commonly behind that acrid "new-house" smell. Rather, it's what Bill McDonough, Virginia-based architect and coauthor of environmental building manifesto Cradle to Cradle, would call a structure built with "positive intention." More specifically, it's a sustainable home whose design minimizes pollutants, opting instead for materials – straw, mud, and wood – that eventually can be reintegrated into the ecosystem. Built by hand, using local labor, Burnel and Javernick's 2,800 square foot contemporary home isn't just green – it's natural. It may also be the future of Colorado building. Read more…..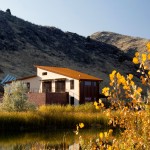 November 2007.  5280 Magazine features fuentesdesign project
Splendor in the Grass: A house made of straw in the foothills of Golden shows us what's next for Colorado's green movement. Read more here.
March 2007.  fuentesdesign project published in Denver Post
March 2007. The House Gore Should Have Built, The Denver Post, March 3, 2007 Diane Carman. From the article: "The clay covered straw-bale insulation is nearly ready for a coat of stucco. The framing, complete with trusses and two-by-fours from the cottage, is done. Terra cotta-colored floor tiles made from the ground remains of the old Stapleton Airport runway soon will be installed in some rooms, with flooring made from recycled cork bottle stoppers laid in others. Read more…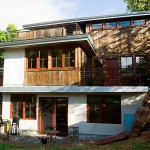 April 2006. Boulder County Business Report features fuentesdesign home
BOULDER – Building with straw bales, says Brian Fuentes, architect and owner of fuentesdesign, LLC, a Boulder-based design firm, is "a way of putting together a building that is healthy, fun and meaningful to the current global situation." Click here to read more.
September 2004.  Daily Camera features fuentesdesign home on Solar Home Tour
Boulder Solar Week, featuring the Boulder Solar and Green Built Homes, is a Center for Resource Conservation effort to help area residents go solar. Click here to read more!