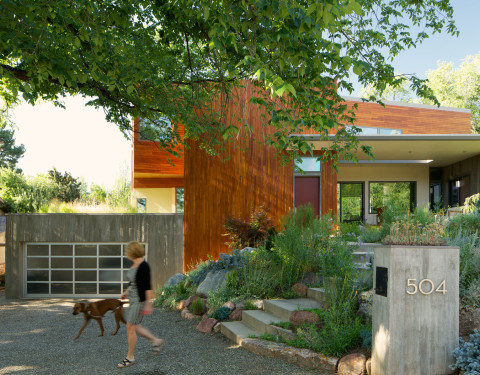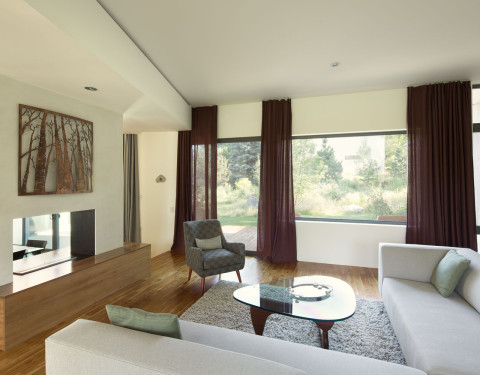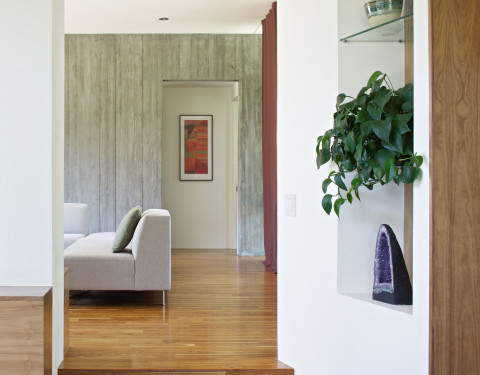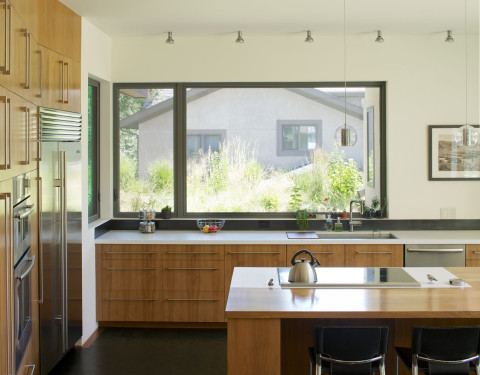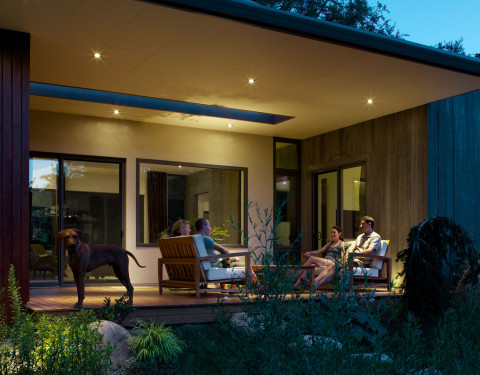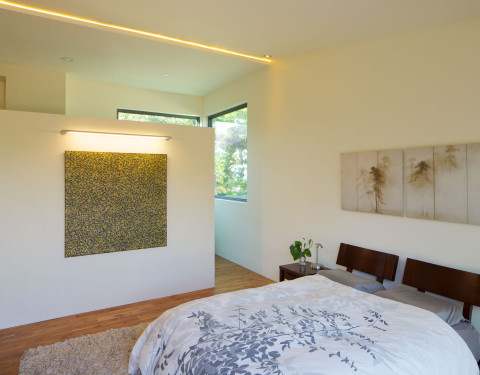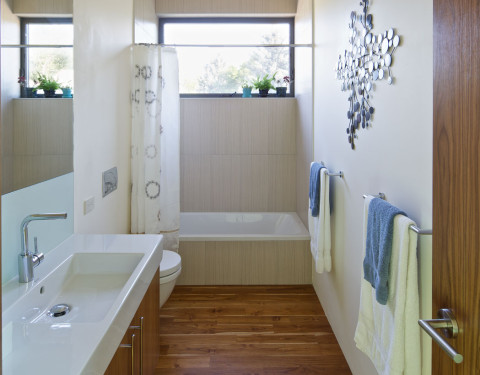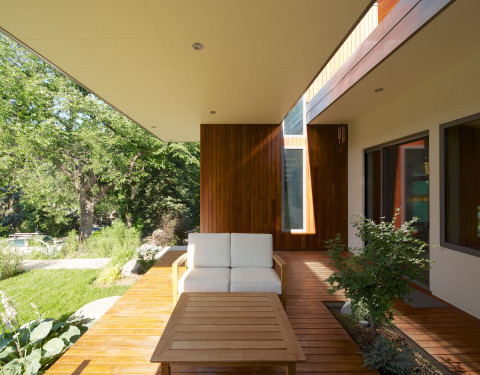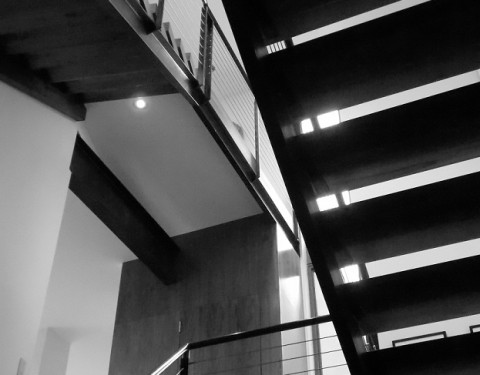 A collaboration with Modverde, Corey Neilson Design, Radiance Corporation and Splashlight, this project is our most technically advanced and carefully executed project to date. A 10kW photovoltaic array powers a hybrid solar thermal geothermal heating system with radiant in floor heating and cooling delivery. Filtered fresh air is delivered through a separate duct system with additional air tempering capacity from a fan coil unit. Structurally insulated panels, our signature commercial floor system, and a teak rainscreen exterior siding and teak interior flooring combine to make this zero energy home comfortable and beautiful.
photography: www.davidlauerohotography.com;  www.splashlightstudio.com and fuentesdesign
Overview by owner Dan Harvey:
"My wife and I met in Boston as I finished grad school and she began. We had both spent considerable time in Boulder and knew that we ultimately wanted to move here. We wanted to live as sustainable of a life as we could, but bearing in mind the inevitable needs and desires of modern-day life.
To minimize driving, we knew we wanted to live within city-limits, close enough to be walking or biking distance from downtown restaurants and also from open-space for hiking. With long distances from close family, we wanted a house that was big enough to comfortably accommodate visitors for extended periods, yet not so big that it was over-sized and wasteful for our normal family living. And above all, we wanted a large garden to enjoy our own little piece of the outdoors. These three requirements turned out to be fairly incompatible with the available real estate in Boulder, which led us to pursue building anew with the help of collaboration between Fuentes Design and Nielsen Design on the architecture side, and Modverde on the construction side.
We wanted to integrate indoor and outdoor spaces, maximize passive solar heating in winter (which dictated the south-facing backyard choice), and be fossil fuel independent. We wanted a modern architecture that created interesting spaces, angles and views. The project followed from there: deconstructing and donating the materials from the original house; designing a new house long in the east-west direction and short in the north-south direction (maximize solar access); an upper floor rotated 15 degrees to the east to catch the morning sun for the 10kW solar array and to provide the desired interesting angles; a geothermal and solar thermal system to provide heat and hot water entirely powered by the Boulder sun; green roofs to make the upper floors feel surrounded by gardens; the house wrapping around the main garden and patio spaces to draw the eye to the outdoors; and making the floor finishes flow seamlessly to the outdoor spaces to provide a continuity between the inside and out.
We spent the bulk of the project budget on the land and the main structure of the house that is built to last, and attempted to save money where we could on finishes since these may wear out or be replaced over time, by us or by future owners. We understand that building a house has a large carbon footprint in its own right, and to us this could only be mitigated by building a structure that would endure both in time and architecture."